Dr. Nate here again today on the blog. Last week I left everyone in suspense regarding Part Deux of Netflix's hit show Stranger Things and their connections to the dental world. If you didn't read last week's post, head back to our blog to catch up!
Now, in full disclosure I didn't notice this other dental connection myself. It came across my email from a friend/colleague in Missouri. What's cool about this connection is it's much more specific to Orthodontics than General Dentistry.
Recall last week I wrote about Dustin's (real-life Gaten Matarazzo) genetic condition called Cleidocranial Dysplasia. It requires significant dental work, which Dustin frequently referenced in this second season by calling his new teeth 'pearls.' The second connection to Orthodontics is actually a t-shirt!
In one of the episodes, Dustin is wearing a t-shirt that reads "Brace Yourself for the Future!" It is from an Orthodontist in Springfield, MO named Dr. Wes Allai. When he first opened his practice in 1982, he made these shirts to hand out to his community. They are cool in the way the rest of Stranger Things is cool…very 1980's. The graphics and the wording all point to something very familiar to those of us who did grow up in the 80s.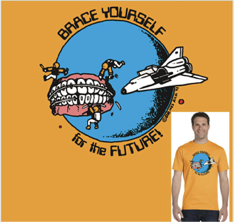 I found a recent interview with Dr. Allai and he said he doesn't know how one of his shirts made its way onto the set of Stranger Things. He stopped making them over 30 years ago! But, being a true business man he is now offering the same shirts through Etsy.
And, yes, I did already buy one…